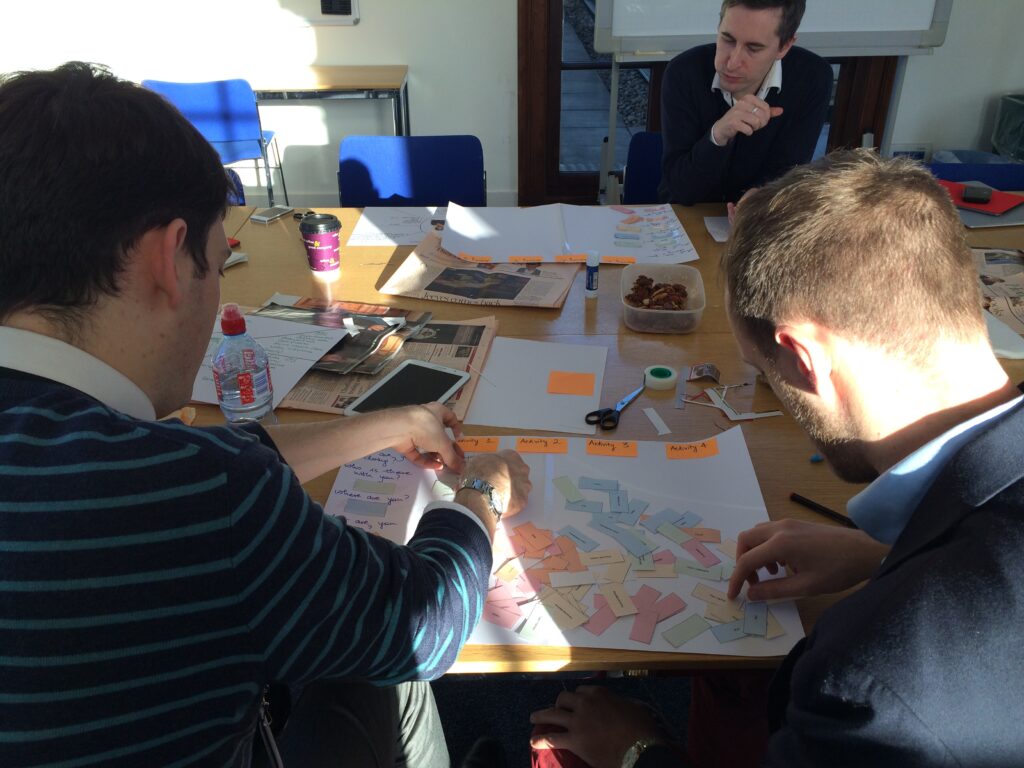 For the last few months we have been engaging with our users through various methods including interviews and observations sessions.
We've talked to a range of teams, for example the Implementation Unit and Open Policy Making Teams, as well as a variety seniority levels and responsibilities. We discussed their daily routines, habits, and ways of dealing with technology, we've also observed them working: when attending meetings, searching for colleagues in building corridors, resolving unexpected crises at their desk or just taking care of their daily work.
At the beginning of December we started our initial two month user trials with around fifty people, asking them to test laptops, tablets and applications. As part of the trials users are giving us regular feedback about the technology and applications they are using, both positive and negative on a daily and weekly basis to help us understand what is easier or harder to do with the new tools and feeds into any solutions that we will propose.
After the first week of the the user trials we invited a group of those users to a workshop where they could talk about their daily work and explain whether and how it has been affected during the trials.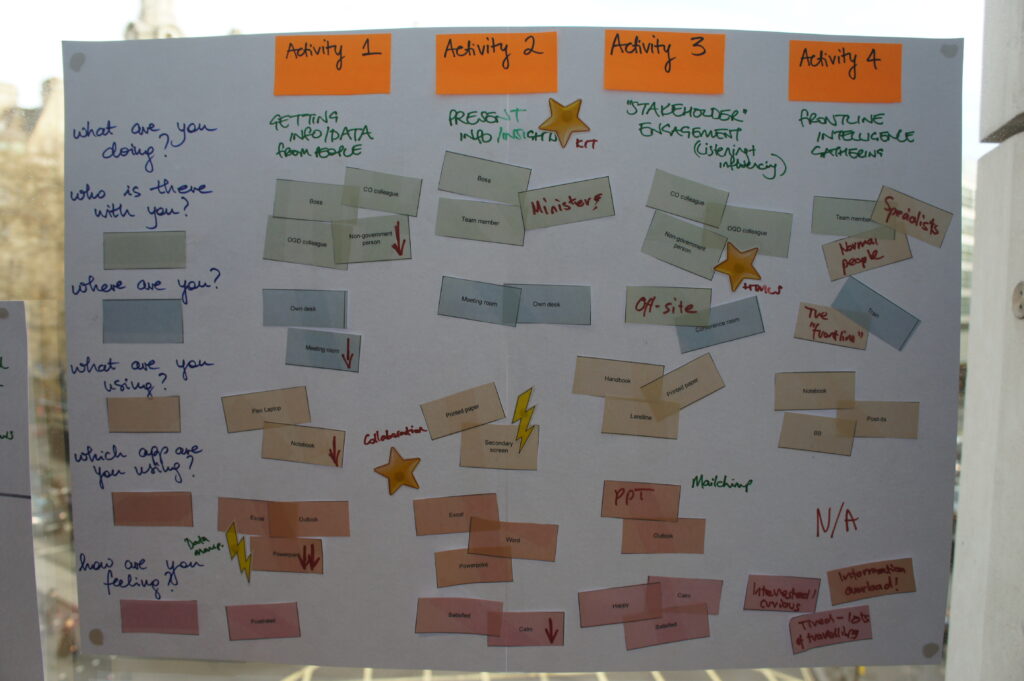 What we learnt at the workshop
At the Cabinet Office a job title says very little about the job itself, users change responsibilities regularly and often move teams. Another thing to note is that jobs often require a mix of skills for example: design, data analysis, presenting, editorial or fund management. Because of that, we decided that asking users to give us a simple visual explanation of what their day at work looks would help to grasp its dynamic character.
The most noticeable source for people's frustrations are when they need to get hold of colleagues and collaborators, both from within and outside of the Cabinet Office.
They also found the variety of skills required to perform certain tasks challenging, especially when no specific training has been provided beforehand. On the other hand, successful stakeholder engagement, researching topics that need to be taken care of by the Cabinet Office and smooth insight presentation make users calm and happy.
How have users been affected by the trails?
Experiences during the trial itself are bringing several emerging benefits, the most notable for users are: having better connectivity, being more mobile with the more portable devices, more choice of applications and the ability to collaborate on documents in real time.
Users are also benefiting from having tablets during meetings to take digital notes and save time in writing them up at their desks later. Cloud tools are appreciated both for individual access through multiple devices as well as the ability for teams to collaboratively work on documents. The potential of new applications is well perceived but users see an obstacle if they are going to switch from tools that they are already familiar with to different ones.
Some of the problems that users are experiencing are associated with connecting new laptops to their existing email service, exchanging files with non user trial participants and having to rely on paper based copies of documents when reporting to senior management.
What happens next?
These insights help us understand the boundaries of our project scope, inspire to think about broader culture change and motivate to continue conducting research with a larger Cabinet Office group. Our next steps will be to conduct more interviews, observations and workshops with different types of users and engage those who are:
less inclined to adopt new technologies
working in remote Cabinet Office locations.
Some of the questions we will be trying to answer in the upcoming weeks are:
How can we address some of the situations when users feel frustrated at work?

How do we make sure the digital tools support users ways of working even when it needs to be offline?

How do we meet users' expectations of using their own devices for work while maintaining the right security levels?

How do we create a seamless user experience whilst being secure

How do give people modern, cloud applications while ensuring they can still work with colleagues across government using more traditional technologies?
We'll continue to update our findings on this blog
-o0o-
The Exercise
Users listed their daily activities, they were divided into: other people involved, location, use of technology and analog tools, apps and emotions. Stars and lightening bolts refer to activities that have become easier or harder during the trial. For example collaboration on documents became easier when working on presentations together, while printing became more difficult.
Template thanks to Paul Khan and Christopher Tallents.